Company
Products
Contact us
Company Description
Moeung Sok Co., Ltd. is a company based in Hai Phong, Vietnam and focusing on the production and export of various kinds of cut-to-size and prefab countertop and vanity top products. The products are widely used in the hotels, apartments, multifamily, condominiums, hospitality industries and commercial & residential projects.

At Moeung Sok, we consistently provide remarkable and endurable products to our wonderful network of clients. There are various grades and categories, to provide you with very rich choices. We always offer you premium quartz with characteristics of low carbon environmental protection, natural color, high hardness, acid and alkali-resistance, no radiation, low water absorption, etc. All the slabs are made in Vietnam and fabricated in our own factory located in Haiphong, Vietnam, and we are now building two of our quartz slab production lines near our fabrication factory, so as to offer more color choices to our customers worldwide.
Onsite Check
The supplier's company premises has been checked by StoneContact.com staff to verify onsite operations exist there. A third-party verification company has confirmed the legal existence of the supplier.

Verified Supplier
International Name
Local Company Name
Company Establish Date
Business License
Trade License
Existence Image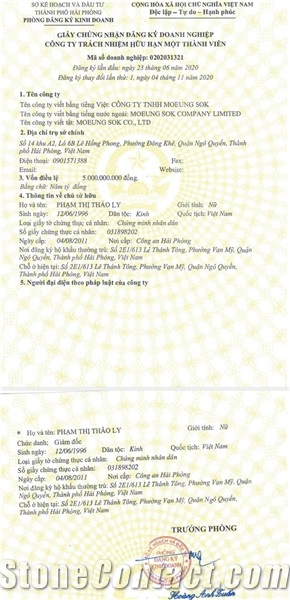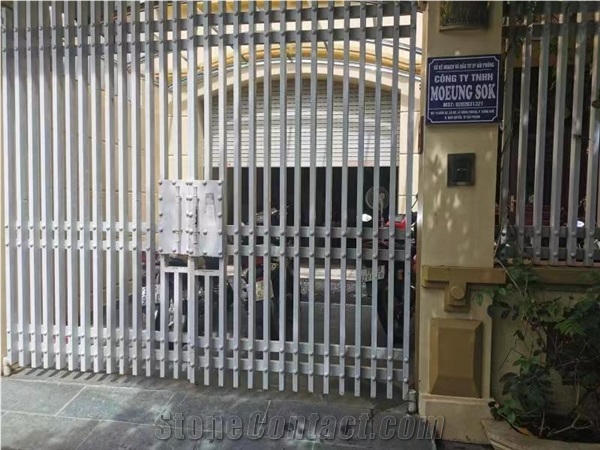 Select your job title

Echo Ngụy

Tel: 84 869500043

84 869500043

Send Email