Company Description
Manson Nature Stone Co., Ltd. started in 2005 with a former name called FT Natural Stone, headquartered in Shenzhen, founded by president Hans Lau, who is a specialist on blocks and slabs' sourcing. With the help and support from clients locally and overseas in the past 17 years, MS Stone has grown up as a group of companies focus on mining, block purchasing, ocean shipping, manufacture, export and logistics. Our 50 acres factory locates in the most famous "stone city"- Shuitou, near Xiamen. Equipped with the most advanced facilities, like Diamond Saw, automatic polishing machine, Breton bridge cutters, CNC, and Water Jets etc., MS Stone has been the top 3 suppliers of high-end projects in Mainland China.
MS is a leading manufacturer and exporter of natural stones, such as Marble, granite, quartz and Terrazzo. And our products range from slabs, Floorings, panels, mosaics, medallions, Kitchen/Vanity tops, wall claddings to customized produts for projects.
Onsite Check
The supplier's company premises has been checked by StoneContact.com staff to verify onsite operations exist there. A third-party verification company has confirmed the legal existence of the supplier.

Verified Supplier
International Name
Local Company Name
Company Establish Date
Business License
Trade License
Existence Image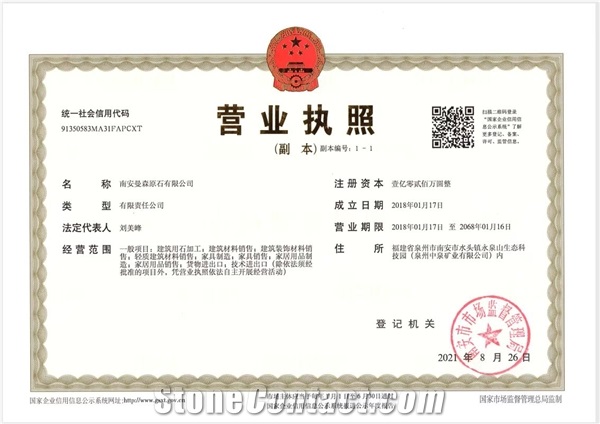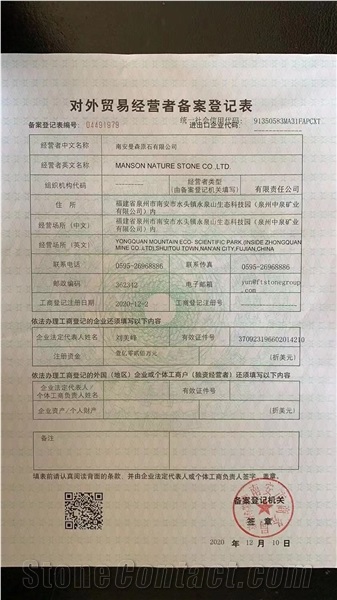 Project Show
China Resources Tower (The Bamboo Shoot) 2017